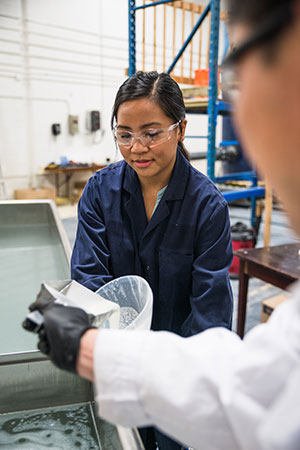 Water Technology Testing Pilot Lab
With our flexible pilot lab located in Mississauga, Ontario, GHL is capable of testing a wide variety of water technology from measurement devices such as flow meters to treatment devices such as filters. We have an on-site analytical lab that can rapidly analyze for several common water contaminants and with our arrangements with local qualified third party labs, we can provide our clients with a full range of laboratory services. All results are reviewed, interpreted and reported by GHL staff, providing a seamless report for our clients.
In addition to the laboratory, there is an on-site workshop and machine shop for making or modifying equipment. This allows for changes to be made immediately based on results. The GHL staff all have chemical engineering or chemistry backgrounds with decades of experience in research and development and testing prototypes and equipment.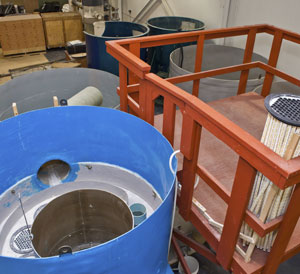 Pilot Facility
Our 10,000 sq ft (930 sq m) pilot lab can be configured to accommodate almost any kind of equipment. We can provide flow rates from 1 gpm (0.1 L/s) up to 1,200 gpm (80 L/s), which is sufficient for testing many full scale commercial/industrial wastewater treatment systems. Our closed drainage system will safely capture and treat or dispose of wastewater that is not generally safe for discharge allowing us to test for a wide range of contaminants.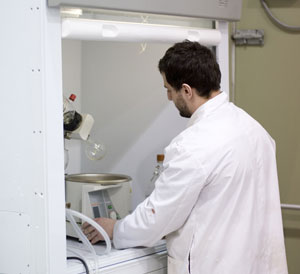 Experience
Our specialty is testing stormwater and commercial/industrial wastewater treatment systems. These treatment systems are important for environmental protection as they remove any contaminants and transform wastewater into a resource. GHL is an accessible, cost effective way to obtain third party performance and/or verification data for your technology. We have conducted tests in accordance with the requirements of pre-existing protocols such as the New Jersey Stormwater Manufactured Treatment Devices Protocol or the CSA B841.1 Grease Interceptor Testing Protocol. We have also worked with clients to develop a testing plan that gave them the data they needed in their market when no suitable protocol existed.