Grease Interceptor Testing for Miami-Dade FOG
Posted on

January 4, 2019

in Post

Grease Interceptor Testing for Miami-Dade FOG2.0
"GHL tests a MIFAB system past the 2000 lb capacity mark"
Client:
In late 2017 we were contacted by MIFAB® about testing two XL-MI-G-PL-1150 units in series in order to meet the requirements of Miami-Dade County. Section 5.0 of the FOG2.0 Control Device Guidance Manual1, published by Miami-Dade County in May 2018, requires that units be tested in accordance with "ASME A112.14.3 Appendix A, ASME A112.14.4, CSA B481.32 or PDI G101." and that "When proposing hydromechanical interceptors the engineer should indicate in plans … capacity in pounds of grease retention at 99% removal efficiency."
Background:
GHL has been testing grease interceptors for years so we were happy to accommodate this request. The test was to be set up as ASME 112.14.3 Type A with a flow rate of 100 gpm. MIFAB® wanted to run until failure as define by 112.14.3/B481/G-101, which is a cumulative removal <90% or an incremental removal <80%. It was anticipated that this would require testing past the Miami-Dade requirements but the client was interested in the additional information.
Challenge:

The fact we were testing two units in series, loading solids in the first unit and targeting 99% removal made it obvious that this was not just another performance test. Exactly how different it would be did not really hit home until the skid containing 2000 lbs. of lard arrived at the lab. When another skid with 600 lbs. arrived a week later it barely made an impression.
In addition to the sheer scale of the test, getting the flow correct was a challenge. The head loss created by two units in series is significantly greater than that created by one unit and that had to be accommodated. For more than a week we tested the performance of the units. The mountain of lard on the skids slowly decreased and the amount of lard retained in the skimming tank slowly went up.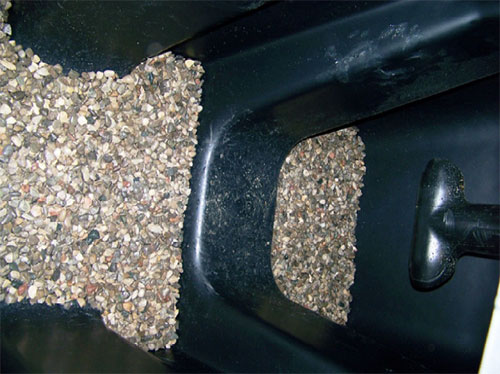 Result:
The grease interceptor performance record book, if it exists, will need to be re-written. Never before has so much lard been added and retained in a test. Never before has a skimming tank been skimmed so many times. Never before have the words, "It passed again, seriously?" been uttered so often during a test.
A typical ASME test lasts 15 runs, this test lasted more than 8 times as long. For the first 5 runs no lard made it to the receiving tank, 100% was captured. It was not until run #74 that the incremental removal dropped below 99%, to 98.9%. It was not until run #112 that the cumulative removal dropped below 99%. The Miami-Dade threshold had been crossed, at 2215 lbs. retained, but the system had not yet failed according to the ASME criteria. Even though we had predicted a capacity in excess of 2000 lbs it was still surprising to see the system keep performing. Finally, at run #125 the incremental efficiency dropped below 80% and the test was over.
The test was an unqualified success. It met Miami-Dade requirements. It met client expectations and opens up a new market for them. It gave GHL an opportunity to fine tune our performance model and testing process to be even more efficient.
Looking at the bigger picture, it also provides data that can be used to aid in decision making for designing tests for larger capacity units. GHL will work with organizations such as ASME, CSA and PDI to incorporate this learning into future requirements. This should benefit the industry as a whole going forward.
Document found at https://www.miamidade.gov/environment/library/guidelines/fats-oils-grease-control-program.pdf
In this context it should probably be CSA B481.1, "Testing and rating of grease interceptors using lard" and not B481.3 "Sizing, selection, location and installation of grease interceptors".