Two Stormwater Technologies Verified by ETV Canada
Posted on

May 10, 2017

in Post

Two Distinct Stormwater Technologies Verified by ETV Canada Through Good Harbour Laboratories
Clients: CB Shield and Hydro International
Background: The CB Shield is a catch basin insert that traps sediments and pollutants as they flow into the frame and grate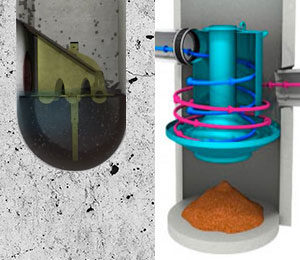 from roads and streets. The sloped plate of the CB Shield acts like a shield by deflecting water to the side wall of the catch basin while trapping the sediments until they get pumped out.
The Downstream Defender by Hydro International is an oil grit separator designed to remove sediment, oils and floatables from stormwater using a low energy vortex motion. This motion causes the sediments to spiral downward where they are captured in the basin below while the oils and floatables rise to the top. The treated water is then safely released back into the environment.
Challenge: The CB Shield is an innovative catch-basin-based stormwater treatment technology for which there was no pre-existing laboratory data. In fact, there was not even a test protocol for this type of device.  GHL worked with the client and the verifier to develop a technology specific test plan (TSTP) that would enable the device to be verified.
The Downstream Defender team was very experienced, having done testing and verification in other jurisdictions.  Since they were testing an oil grit separator, the protocol was already specified. Even in this case, it was necessary to work with the verifier on behalf of Hydro International to get the results verified. In both cases GHL was able to use their experience to guide them through the verification process and to overcome technical challenges.
Solution: For the CB Shield TSTP, the GHL team took elements of the Canadian ETV Procedure for Laboratory Testing Oil and Grit Separators and the international General verification Protocol (GVP) to create a plan that would be acceptable for verification. GHL was able to help craft a plan that required a minimum of testing yet met all the specifications of the verifier.
For Hydro International, getting verification required discussing the finer points of statistics and the requirements of the GVP. GHL was able to clarify some ambiguity in the GVP and to provide the verifier with some historical perspective on stormwater testing. As a result, the report was verified as presented.
Results: ETV gives the CB Shield additional credibility in the market and reduces the risk to its customers.  For Hydro International, their Downstream Defender is now approved for sale in the province of Quebec, which requires all stormwater treatment products be ETV approved. GHL was then able to add two new successful stormwater testing achievements to their resume.
As an ETV member, GHL has a good working relationship with the program manager, Globe Performance Solutions (GPS) and the other verifiers and is able to act as 'translators', explaining the technical requirements and guiding each client through the entire verification process and procedure.